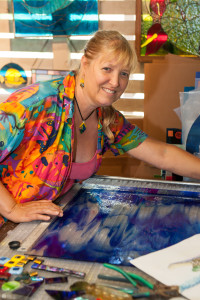 I revel in the rich color created by light passing through colored glass and by the way light works with the color in glass to create a sense of movement.   I use this movement in concert with the depth and dimensionality of glass to create vibrant images which come to life and change as the light and the viewer's perspective change.
Living on the Big Island of Hawai'i the beauty of the land and ocean are a constant inspiration.  Nature's full palette of colors surround me:  the ocean's many moods of cobalt, pale icy blue and turquoise; the rich greens of the rainforest's forests and cliffs; the shimmering colors of schools of fish; the pulsating reds and oranges of tropical flowers and flowing lava.  Hawai'i Island is a place of creation where new land and life begin.  These new beginnings heighten my senses, connecting me to the heart of the Earth, and inspiring and informing my work.
My images are drawn from the natural forces of the Earth's realms  of land ("Aina") and ocean ("Moana"), interwoven with Hawaiian mythology and belief systems, including that of personal spirit guides ("aumakua").  The unique properties of depth, movement and changing colors of glass allow me to capture the wildness of the ocean, the grace of ocean life, the fire of Pele, and the beauty of our tropical flowers and plants.  One of my favorite images is the sea turtle, or "Honu", the aumakua who leads you to your heart's home.
To make use of both reflected and transmitted light, I combine transparent and opal sheet glass in my kiln.  This creates layers of color which move and swirl in three dimensions within the glass.  Larger pieces are made for display, either wall-mounted or free-standing, some with koa wood stands.  My wearable art, in the form of jewelry, uses dichroic glass in which colors shimmer and shift as the wearer moves or views the jewelry from different angles.  I also etch imagery into this dichroic glass.
My hope is that, captured forever in my glass, those who buy my art will find their special memories of Hawai'i Island.